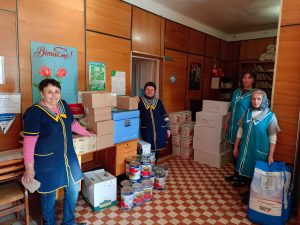 This is the weight of very important help that the nursing home in village Peremoga, Kyiv region received. It is very vital support for the project Rivavel of Peremoga  we started in 2022.
Colleagues from the "Sprout of Hope" Charitable Foundation delivered the items to 50 residents of the elderly home and the persons with disabilities at our request:
1 Pasta, hard varieties Box, 10 packs x 1 kg 12
2 Egg pasta Box, 2 packs x 5 kg 2
3 Breakfast cereals (corn flakes) Box, 6 packs x 1 kg 2
4 Canned tomatoes Tin, 5 kg 35
5 Tomato sauce Box, 2 packs x 5 kg 14
6 Sugar Box, 10 x 1 kg 3
7 Salt Box, 24 packs x 500g 3
8 Rice Pack, 5 kg 16
9 Sweets in a cup Box, 12 x 135g 6
10 Happy Cola sweets Box, 28 x 75g 1
11 Washing powder Bag, 1 x 20 kg 3
We thank  TAS Life, and the organisations Usmev ako dar and Kiwanis Kids and Kiwanis International 
Thanks to you, it is easier for the 50 residents and 30 staff members of the nursing home to maintain their dignity of life!
.
We are grateful to our long-time friend and benefactor Tetiana Vakulenko for useful information and introductions to colleagues in the charity sector.