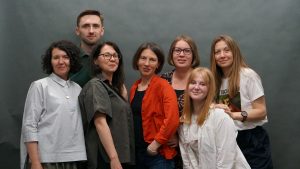 We in fund are looking forward to the victory! For the main and long-awaited.
Also, for us, "victory" is part of our DNA and name. We act in the format of every day victory over obstacles, difficulties, uncertainties for the sake of goodness and love.
On May 25, 2023, a working meeting of the foundation team took place, where we «compared maps and clocks», checked whether we saw the future of the foundation in the same way as before, as well as the ways and tools to achieve the goal.
Our team today is mainly volunteers, but finally 2 specialists have appeared, who are paid by the fund for their professional skills for the benefit of the fund's activities.
And, also, finally there is a sponsor who has decided to a certain extent to support us precisely in terms of administrative development. So little by little we become more efficient in our actions.
Plans, new ideas, analysis of strengths and weaknesses, threats and opportunities were worked on as part of the circle of "winners":
(according to the main photo from the publication from left to right )Olga Kuchmeeva – strategic development coordinator, Petro Darmoris – fundraising coordinator, Iryna Lutai – founder and director, Olena Dmytrieva – craftswoman and sewing teacher #Grandma's Hares, Iryna Raspopina – coordinator #Grandma's Hares, Kateryna Shelest – purchasing coordinator, Yulia Oleschuk – smm -manager.
So, let's go to new victories! We hold the rear. We thank the defenders of Ukraine and everyone who supports our foundation.